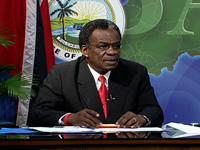 THA Chief Secretary Orville London will have his first official meeting with Prime Minister Kamla Persad-Bissessar on Friday (22nd February 2013) at the Parliament Building, Tower D, Port of Spain in almost a year.
The meeting was requested by London to discuss a number of critical issues of concern to Tobago including his proposal for the Central Government to abort the present process before the Parliament to give Tobago self government and for it to return to discussion and negotiation with the Assembly to come to a point where by the time the bill got to Parliament there should not be too many areas of disconnect between the people of Tobago and the people of the rest of the country.
Also on the agenda is the collaboration of the Central Government in the revitalisation of the Tobago economy, a review of the relationship between Ministers of Government and Secretaries in the THA, funding for housing programmes in Tobago and the appointment of THA nominees to State boards and commissions to deal with issues of a Tobago nature that required an input from the Assembly. He said the Assembly up to last year had representation on 30 boards.
London said he was also going to recommend to the Prime Minister the institutionalisation of quarterly non crisis meetings between the Prime Minister and the Chief Secretary to formulate administrative and legislative mechanisms for the promotion of harmony in the affairs of Trinidad and Tobago.
London said he continued to be heartened by the posture of the Prime Minister and her team and hoped that it would be something that would be sustained.