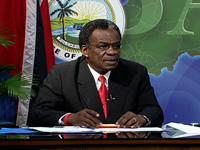 THA Chief Secretary Orville London will meet with Prime Minister Kamla Persad-Bissessar today (Thursday 9th June2011) at 3 p.m. at the Coco Reef Resort to continue discussions on the governance of Tobago. The two last met on May 19 2011 in Tobago.
The meeting will follow the weekly Cabinet meeting at the resort.
London told reporters at the weekly post Executive Council media briefing at the Calder Hall Administrative Complex that because of the late notice of the meeting there was no final agenda available but he was hoping that the discussions which they started on the appointment of a TRHA Board and appointment to State Boards on which the Assembly had representation in the past.
The Chief Secretary said he was also hoping to raise the relationship between the THA and the Central Government and what can be done to improve that.