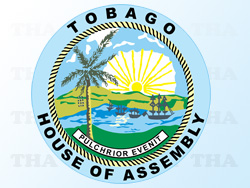 Chief Secretary Orville London and Finance Secretary Joel Jack will meet with Finance Minister Larry Howai on Friday (18th October 2013) to discuss the various options available to the Tobago House of Assembly (THA) in light of the shortfall in its parliamentary allocation for fiscal 2014.
"Top of the list we will be discussing are the ways and means we can collaborate in ensuring that development projects in Tobago are not stymied in any way," he told Wednesday's post Executive Council media briefing at the Administrative Complex, Calder Hall.
He said in the pre budget discussions with Howai they had indicated the various options the Assembly would like to explore which were not treated in any great detail in the budget and "I don't believe that that closes the door to discussion and negotiation and we are going to the discussion at the meeting with an open mind".
London said he expected that they will come out of that meeting with a clear understanding of the options and the areas the ministry would be able to collaborate with the Assembly. "Of course the kind of flexibility we would have with respect to sourcing funding and other resources and developing other strategies to ensure that our projects are not in any way stymied," he said.
Next Thursday's (24th October 2013) monthly plenary sitting of the House of Assembly will be transformed into a second budget debate for the year when Secretaries and Assistant Secretaries will report on how the new budget will affect their areas of responsibility.
London said it will provide the Assembly with an opportunity to share and to reiterate its vision for Tobago, to deal with how it was treating with Tobago's development in relation to the GDP, as well as all the plans and projections it would have made to the people of Tobago during the election campaign.