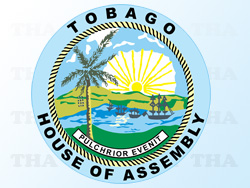 Chief Secretary Orville London has said the $2.609B allocated to the Tobago House of Assembly (THA) from the national budget is the minimum amount that Central Government has to give by law.
According to the Dispute Resolution Commission (DRC) the allocation to the Assembly must be between 4.03 per cent and 6.9 per cent of the national budget.
Minister Larry Howai also announced that under various heads of expenditure Tobago will receive an "additional amount."
However, speaking to reporters following the presentation of the budget by Howai in Parliament on Monday, London stressed that what the THA got was what the Central Government was obligated to give by law, but in the "sleight of hand they add to that other allocations giving the impression that the Assembly got much more than the minimum 4.03 per cent."
He said the budget was a combination of "same old, same old, with a little bit of hope."
Asked if he was disappointed with the lower than desired allocation of $5.68 billion requested, London replied that when it happens often enough he didn't know if to feel disappointed: " Because it never happens differently. You get your 4.03 per cent despite all the promises. I'm past the stage of disappointment," he stated.
London said he did not expect very much more than the 4.03 per cent based on the history. "You could hope, but based on the history, it doesn't occur any differently from this," he added.
However, the Chief Secretary was heartened by Howai's revelation to support Public Private Partnership PPP) projects in Tobago. Among the plans is to use the PPP to establish a marina on the island at Petit Trou Lagoon within the Tobago Plantations site at Lowlands.