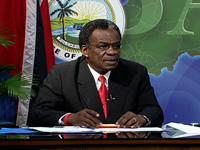 On behalf of the Tobago House of Assembly and the people of Tobago, I extend sincerest condolences to the family, friends and numerous admirers of the former President, Sir Ellis Clarke who died on Thursday evening.
Sir Ellis Clarke will be remembered as one of the two main contributors to the evolution of Trinidad and Tobago as a nation.  He played a pivotal role in every major constitutional change in the country over the past six (6) decades and his advice, when sought, was willingly given to every administration, over the years.
Sir Ellis Clarke personified the best of Trinidad and Tobago.  A brilliant academic who won an island scholarship in Mathematics but went on to become a brilliant lawyer; he chose to spend most of his working life in the public service rather than in a lucrative private practice, and this country has benefited significantly from that decision.
We, in Tobago, will remember him with fondness and appreciation, for his commitment to the improvement of Tobago's status in the relationship with Trinidad.  It was Sir Ellis who admonished decision makers and the people of this country that they must ensure that the islands of Trinidad and Tobago walk "side by side, not one behind the other".  This statement which is as relevant now as when he made it thirty (30) years ago, has become the mantra of Tobagonians of every political persuasion, as the quest for Tobago's autonomy continues.
Today, we mourn the passing of a great man but we must be consoled by the fact that he had a long and productive life and was able to contribute, even into the final months of his life.
The legacy of Sir Ellis Clarke is secure.  All of us owe him a debt of gratitude which we can only repay by our contribution to the Democratic Republic of Trinidad and Tobago whose guiding principles he influenced to a significant extent.
May his soul rest in peace.