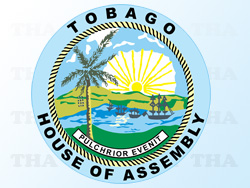 THA Chief Secretary Orville London will meet Prime Minister Kamla Persad-Bissessar at her St. Clair Office on Monday, 27 October 2014.
The two leaders last met on 14 June, 2013 and had committed to meet within three months to resume discussions on matters that would assist in the formulation of "administrative and legislative mechanisms for the promotion of harmony in the affairs of Trinidad and Tobago." Another meeting was scheduled for 27 March, 2014 following a request on 29 July, 2013, but this was cancelled by the Prime Minister.
On Tuesday (21 October, 2014), during a press briefing at the Administrative Complex in Calder Hall, London said he wrote the Prime Minister, dated 15 October, 2014, repeating his request to resume discussions on a number of critical issues.
During Wednesday's Executive Council meeting, the Office of the Prime Minister sent correspondence inviting the Chief Secretary to meet with her on Monday at 1:30 pm.
London said he was heartened by the opportunity to meet with the Prime Minister to discuss long-standing and critical issues. However, he was "disheartened it would have taken 15 months between our last meeting and this one."
"I am happy that we now have an opportunity to discuss a number of issues and hopefully come to some conclusion, because some of these issues have been on the discussion table for two years."
London said the outstanding issues to be discussed included the incursion by Central Government into areas devolved to the THA, under the Fifth Schedule, the constitutional and legislative amendments towards self-government, and the THA's access to and participation in additional modes of funding.
The leaders will also continue discussions on the implementation of strategies for the revitalisation of Tobago's economy.
The issues to be discussed are critical to Tobago's development and the "improvement of the quality of life of our residents." London said he hoped the "discussions will be conducted in an environment where we're looking for solutions."