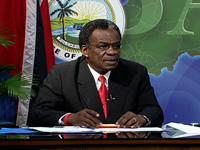 THA Chief Secretary Orville London would like to see organisations outside the Tobago House of Assembly (THA) taking a stand on critical issues affecting Tobago.
"Organisations like the Chamber have to talk out on Tobago issues," he told the quarterly meeting of representatives of the Tobago Division of the T&T Chamber of Industry and Commerce and the Assembly at the Calder Hall Administrative Complex on Tuesday. (27th November 2012)
He made the statement in response to the Division's request for assistance from the Assembly in getting a reliable and efficient cargo and passenger ferry service on the sea bridge. The Division also expressed its concern with the safety of the aircraft being used on the air bridge.
Responding to the ferry service London told the meeting that the THA did not have a representative on the Port Authority Board and in fact did not have a representative on over 20 Boards as it previously had to raise critical issues affecting Tobagonians and Tobago. London said he had written the Prime Minister on this issue pointing out that the Assembly had such representatives on State Boards since 1990 to seek the interest of Tobago.
London asked the Division's Chairman David Wong how the Chamber viewed this non-representation on the Boards.
Wong raised the issue of the management of the use of pleasure craft in sea bathing areas, especially the southwest areas of the island. He also took issue with the difference in the subsidised price of animal feed sold by the THA Marketing Department as against the price of the same product sold by the National Flour Mills.
He also provided details of the rugby tournament to be held next month at the Bon Accord Recreation Ground involving 18 foreign teams. In addition the players will participate in goat racing activities at the Buccoo Integrated Facility on December 7 and sing carols at the Store Bay Beach Facilities.
The meeting agreed that representatives of the Chamber and the Division of Education, Youth and Sport meet to complete a sports policy for Tobago.