On December 4th annually, residents of Tobago come together to celebrate everything Tobago and this year is no exception!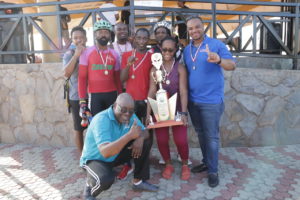 Activities began on December 1st with recognition of the culinary delights of the island that can be savoured at various restaurants around the island, until December 8th.  Things literally got physical on December 4th with a Triathlon that saw teams from various Divisions of the Tobago House of Assembly (THA) competing fiercely against each other.  The Secretaries of the Divisions kicked off the event at 6:00 a.m. at Buccoo Integrated Facility with a brisk walk and then THA staffers dove into the waters of Buccoo Beach.  Their colleagues took over running and then biking to culminate at the Scarborough Esplanade.  In the end, the Division of Infrastructure, Quarries and the Environment (DIQE) reigned supreme.  Congratulations to DIQE and all the participating teams.  You are all winners!
The sporting activity was followed by a Thanksgiving Service & Opening Ceremony at the Scarborough Library at 10:00 a.m.  Later in the evening, the Tobago Day Awards – the highlight of the week's celebrations – took place at the Conference Room of the Division of Community Development, Enterprise Development and Labour.  The 2019 Awardees are as follows:
Tobago Medal of Honour GOLD for Distinguished and Outstanding Service to Tobago in the sphere of:
CULTURE – Mr. Duvone Stewart
SPORT – Mr. Akeem Stewart
Tobago Medal of Honour SILVER for Long and Meritorious Service to Tobago in the sphere of:
CULTURE & THE ARTS –  Tobago Drama Guild
COMMUNITY SERVICE – Scarborough Upper Lions Club
EDUCATION – Mrs. Maria Caesar-George
SPORT – Mrs. Joan Bedlow-Soverall
Tobago Medal of Honour BRONZE for:
GALLANTRY (Posthumously) – Mr. Chrislon Walters
Chief Secretary's Award for Outstanding Contribution and Significant Achievement in the sphere of:
COMMUNITY SERVICE – Charlotteville Police Youth Club
SPORT – Ms. Sapphire Jackson
Today (December 5th), a Debate is underway at the Assembly Legislature and on December 6th an Expo will be held at the Buccoo Integrated Facility from 11:00 a.m. leading into a Sports & Family Day at 1:00 p.m., which will also feature live entertainment by Yolanda, Adana and Swappi.  All are invited to attend.