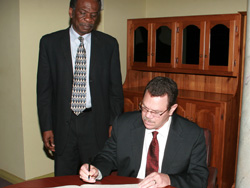 Acting Vice-President, Operations of the Caribbean Development Bank (CDB), Warren Smith sees possibilities for the Barbados-based regional bank to invest in the areas of technical and capital project financing in Tobago.
However, he said, he did not want to be specific at this point because the funding required further in depth discussion with colleagues in Tobago and in Trinidad and also subject to deeper scrutiny by the CDB's technical team that will visit Tobago later in the week.
Smith who headed a CDB team for talks in Tobago on Tuesday with Chief Secretary Orville London and Finance and Enterprise Development Secretary Dr Anslem London said the bank wanted to become a little bit more familiar with what was actually on the ground. A full 17-member team is visiting Trinidad and Tobago to gather information to develop the CDB's Country Strategy for Trinidad and Tobago.
He said his team understood the fact that Trinidad and Tobago was one country but there were peculiar needs of Tobago and they wanted to ensure there was a strategy that was relevant.
He said while the bank was working with the Trinidad and Tobago Government and was going to be having discussions with the government he assured that the CDB was going to make its case in such a way that reflected its understanding of the realities here in Tobago. "We have every confidence that we will be able to arrive at something that is in the interest of the country as a whole," he added.
Smith who assumes the position of CDB President on May 1, said his team was leaving Tobago "very satisfied" after hearing from the "horse's mouth" what were Tobago's priorities and opportunities that were available.
He said the CDB was a small institution and therefore had to be very focused in the work that it did, so it would not be able to address all of Tobago's problems. He added: "What we are going to try to do is to match our core competencies with your needs and we have no difficulty with very small interventions. Very small interventions are what we think that we are very good at."
Chief Secretary London said the mere fact that the team came to Tobago was an indication of the CDB's understanding of the nuances that must exist in the relationship between Tobago and Trinidad "though we're one country and the realisation that regional institutions should take these things into consideration when they're making their decisions. "I was also quite enthused at the approach of the Bank in ensuring that before it makes its decisions it consults with all the stakeholders and the decision taken to make a special trip to Tobago so that Tobago's projects and Tobago's concerns can be put on the drawing board and be part of the consideration.
London said he hoped that coming out of this exercise will be a long standing relationship between the bank and Tobago and that it would be intensified so that there would be some projects coming out of this that will be to the benefit of Tobagonians.
He said he was heartened that the visit was having immediate follow-up with a technical team coming to Tobago later this week to have discussions at their level. "I think this signals to me that we are prepared to walk the talk about ensuring that we do the doable," London added.