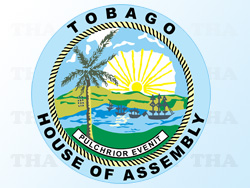 Safety measures have been put in place to ensure citizens and visitors have a safe and secure Carnival in Tobago. Law enforcement, safety and medical personnel will be visible and available throughout the period to help anyone in need.
This was disclosed at a Carnival media conference hosted by the Tobago Emergency Management Agency (TEMA) and the Tobago Festivals Commission on Friday (February 8, 2013) at the Fairfield Complex, Scarborough.
TEMA Acting Director Allan Stewart gave a brief overview of what the public should expect in regards to any safety, medical emergency or security issue during Carnival. "Since 2005, a command post has been implemented for emergency management stakeholders to coordinate in one location," Stewart said 2 command posts will be operational from 11 p.m. on Sunday 10th February. The first post will be located in Scarborough at the Gardenside Street Car Park and second at the Roxborough Fire Station compound. Both areas will be staffed by law enforcement, safety and medical personnel, and were implemented to enable a structure of effective communication and service. Stewart said 29 incidents were recorded during the 2012 Carnival period and TEMA hoped for a reduction in incidents this year.
Police officers will be present to ensure the safety and security of revelers and spectators "We will be taking this responsibility very seriously," Acting Assistant Superintendent Collis Hazel said. "We ask the citizens and visitors to adhere to the directions of the police on duty." Police officers will also be located near the northern tip of the island to attend to campers.
Likewise Acting Divisional Fire Officer Godfrey McKellar assured that his department will provide proper coverage. "We have assigned approximately 80 fire personnel to work for those two days to cover both the Scarborough and Roxborough area," he said.
In addition, the Tobago Regional Health Authority will provide additional support with emergency clinical services in conjunction with TEMA. "Doctors and nurses are rostered in four shifts," General Manager of Patient Care Services Karen Moore-Nicholson told the media. Ambulance support will be ready at the command posts. "We are urging the public to protect yourself and prevent injuries during this season," Moore-Nicholson said.
Public transport will be available. Buses will leave from the terminus at Shaw Park to Scarborough, from the Botanic Layby leaving Scarborough for the northern and eastern regions, and from the junction of the Claude Noel Highway and Wilson Road from Scarborough to Crown Point.
The public is asked to note there will be temporary traffic restrictions during the Carnival celebrations. Further information and Carnival tips can be accessed at TEMA's website, www.tema365.com.