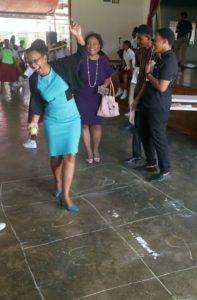 A taste of Tobago's heritage.
That's what the Bishop's High School's Department of Social Sciences delivered yesterday (December 4) at the school compound. The initiative was part of the Tobago Day celebrations.
Bishop's High Principal Cindy Ramnarine said the department's curriculum included the "delivery on the history of Tobago".
"The event immersed our students in the culture and heritage of Tobago, that way they come to value it more greatly than being told or reading a book," Ramnarine said.
The event included the school's morning assembly, as Tobago was celebrated in song and dance, spoken word and speechband. The students also made marketable cassava products, while activities include games of yesteryear, like moral, hopscotch and pitching marbles.
They also baked bread using a dirt oven, and cooked yabba, a soup inclusive of dasheen bush and pumpkin.