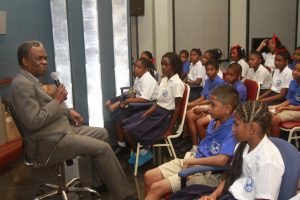 Thirty-five students from Biche RC Primary School in Trinidad took a field trip to Tobago on Thursday (June 9, 2016), to learn more about the island and its governance. For many of the students, it was their first time on a plane, and their first visit to the island.
The Standard Four and Standard Five students' trip was part of a school Social Studies tourism project. It presented an opportunity to learn about Tobago and its rich history and visit some places they had only read about.
The primary school students' first stop was the Office of the Chief Secretary, where they met THA Chief Secretary Orville London.
London participated in a question-and-answer session with the students. They learned about London's job as Chief Secretary, how the THA functions, and the relationship between the Assembly and Central Government.
Standard Four teacher Patricia Charles said she wanted students to learn "there is employment within the tourism industry and Tobago can teach them about hospitality."
Charles said: The students "have the opportunity to meet Mr. London and see how the islands coexist."
Eleven-year-old Kayla Baboolal was excited for her and her classmates to meet the Chief Secretary in person. "I feel excited to meet him to get to learn about his authority," she said.
After their meeting, the students toured several historical sites including Fort King George, Fort James, the Mystery Tombstone and the Botanical Gardens in Scarborough.