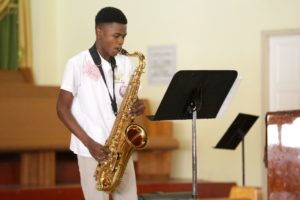 The Trinidad and Tobago Biannual Music Festival is in its 33rd year and flourishing.
The Festival provides a national forum to celebrate and promote various types of music and showcases more than 60 categories, including drums, steel pan, wind instruments, and vocal performances. The National Prelims and Zonal Finals-Tobago began on March 2nd and concluded today.
Bishop's High School student Tishari Neptune started playing instruments at the age of 4 and earned a spot in the championship round in the sax and recorder categories.
"I feel elated because I know I had put in a lot of work," Neptune said. The vision of the Trinidad and Tobago Biannual Music Festival is to be the premier organization that fosters musical excellence.
The finals of the Tobago leg of the competition took place at the Montgomery Moravian Church and the National Championships will be held at the Naparima Bowl and Queens Hall in Trinidad from March 23rd to 27th.