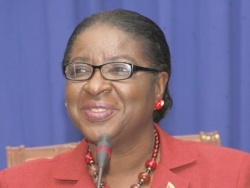 Another attempt is being made to find an investor and operator for the 200-room Vanguard Hotel at Lowlands, Tobago.
Minister of Tobago Development Vernella Alleyne-Toppin disclosed this on Wednesday at a media briefing following a meeting of the Tobago Tourism Standing Committee chaired by THA Chief Secretary Orville London.
The Minister told reporters that a Request for Proposals (RFP) will be going out on the international market on February 14 2011 and it was hoped that this would be dealt with urgently. She was however, unable to say whether this was hinged on the necessary works to be done on the hotel so it can be opened for guests at the start of the tourist season in November. A similar RFP last year failed to attract a suitable client.
The opening of the Vanguard's "high end" rooms was hinged on two international airlines adding a second weekly flight to their Tobago service. However, Alleyne-Toppin said government will shortly reveal a Tourism Development Plan that will also provide financial assistance to upgrade the hotel plant in Tobago.
THA Tourism and Transportation Secretary Oswald Williams said the highlight of the meeting was his Division's 2011 Tourism Marketing Plan which evoked "very frank and open discussion". He said the plan will be further discussed at a meeting of the marketing company and all local stakeholders next Thursday (February 10 2011) to come up with a plan for the short, medium and long term that will lead to the resuscitation of the industry in Tobago. The Standing Committee will then meet in two weeks to finalise the plan.
Williams said the service provided in the industry was of concern to the Assembly and cited complaints being received of the time it took, sometimes up to two hours, for passengers to go through immigration and customs at the Crown Point International Airport where every piece of luggage was screened.
Asked whether any effort was being made to refund the seized $6 million from a Royal Caribbean vessel by Customs almost two years ago, Williams said he had seen a copy of the letter written by Trade Minister Stephen Cadiz to the cruise line giving a commitment to refund the money but did not know whether it was done. Royal Caribbean which pulled its two vessels from the Tobago route this year had threatened that if it was not refunded the $6 million by last Monday (January 31 2011) it will remove Tobago from its schedule of stops for the 2011-2012 cruise season.
The Division's Tourism Director Warren Solomon said basically the marketing plan will essentially cover activities in the traditional markets in the United Kingdom, Germany, Scandinavia and the new markets of the United States and the Caribbean. He said a lot of print and online activities will be used to send clear messages of Tobago and participation at some of the consumer fairs and trade fairs as well as training in the travel trade industry.
Solomon added that a concerted effort would be made to "get good news of Tobago" in the international markets and as a result will shortly be hosting the international media in Tobago in an effort to influence people that Tobago was a good place to visit.
Tobago Hotel and Tourism Association Carol-Ann Birchwood-James said tourism stakeholders were looking for "innovative ideas to make Tobago interesting, in other words, the rebranding of Tobago". She said there was need for a new tagline to replace "clean, green, safe and serene".