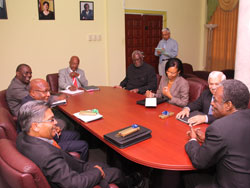 Three Trinidad and Tobago diplomats who will be taking up their assignments in the coming weeks have given their commitment to sell Tobago to the countries they have been credited.
The three, Mr. Rodney Charles, Permanent Representative-designate to the United Nations in New York; Dr. Hamza Rafeeq, Ambassador-designate to Brazil; and Mr. Harry Partap, Ambassador-designate to South Africa accompanied by Ms. Joanne Brooks of the Ministry of Foreign Affairs, paid a courtesy call on THA Chief Secretary Mr. Orville London at his Calder Hall Administrative Complex office on Wednesday when this commitment was given.
Chief Secretary London in welcoming the three said he was very heartened by the decision taken to make the visit. "I think we got a very positive signal that the Ambassadors recognised that there are certain nuances about the Tobago situation which must be taken into consideration when one treats with the way one utilises one's position to improve the lot of the people in Trinidad and in Tobago.
Mr. Rafeeq who spoke on behalf of the three said: "We are looking forward to these assignments with a lot of hope and certainly we want to make the commitment that we will not forget Tobago."
He said their meeting was more than a courtesy call because it gave them an opportunity to have some serious discussions on various important topics. "All of us realise that as Ambassadors when we go to our various postings that we represent Trinidad and Tobago and try to do what is best for Trinidad and Tobago," he added.
He said during their meeting the point was emphasised that in the conduct of affairs Tobago tended to get to the back burner and tended to get left out. "The point was made that at some special level of the Embassy some mechanism should be put in place so that Tobago does not get left out and the interest of Tobago was properly looked after. "This is something all of us will certainly take on board to ensure that the interests of Tobago are taken on board specifically in Brazil where there are things that can be of benefit to Tobago in terms of tourism, micro small enterprise development and agriculture," Mr. Rafeeq said.
Chief Secretary London described the discussion as enlightening on both sides, adding that "we were able to identify some areas on which there could be focus in each of the countries and set the way to ensure that we have a process whereby the quality of the communication would ensure that the issues that are important to Tobago that those issues are given due consideration".
He said: "I was very pleased with the way the discussion went. I was very pleased with the level of commitment coming from the gentlemen and we expect that very soon after they arrive in the country to which they have been assigned that we will hear from them and that we will be able to develop the kind of relationship which would bring optimum benefit to the people of Tobago and by extension, the people of the country," Mr. London said.
He stressed: "I really hope that it will translating into something that will guarantee amore meaningful relationship between the THA and the various Embassies so as to ensure that we can get these policies translated into relevant and appropriate action."
Also at the meeting were Finance and Enterprise Development Secretary Dr. Anslem London; and Tourism and Transportation Secretary Mr. Oswald Williams.