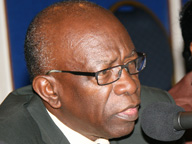 The Air Bridge and Sea Bridge subsidies will remain. This is the assurance of Minister of Works and Transport, Hon. Jack Warner as he along with a team from his Ministry met with Chief Secretary Hon. Orville London and other THA officials.   
The Chief Secretary had in an earlier release stated: "I have recommended that the subsidies on the Air Bridge and Sea Bridge be given priority as any increase in the fares could bring untold hardship to Tobagonians and seriously affect the hospitality industry which is deriving significant benefit form the Trinidad market".
While addressing the media after the meeting, Mr London noted that a number of outstanding issues were discussed and that the Minister has made a commitment to partnering with the THA to ensure that Tobago is well served.
Minister Warner called the meeting "an eye opener" and lifter of the bar for the Ministry's further collaboration with the THA. The Minister of Tobago Development, Hon. Vernella Alleyne-Toppin echoed the sentiments of her colleague.
Among the issues for which the Minister promised immediate action – upgrade to the airport terminal building (including provision of a First Class Lounge); repaving of airport runway and repair of airport perimetre fence. Secretary of Tourism and Transportation, Mr Oswald Williams is expected to meet with Caribbean Airlines CEO Captain Ian Brunton, on Thursday, 26th August to discuss the improvement in Caribbean Airlines' local service, the airline's role in the development of Tobago's international tourism industry and other matters.
Additionally, Mr Williams noted that the Minister has promised to address the need for additional provisions at the Scarborough Port for ferry passengers. Immediate action is expected on the relocation of the ticketing and boarding pass area, provision of luggage carousel and the flexibility of changing tickets at any ticketing location.
Minister Warner further gave the assurance that his Ministry will continue the dialogue on the extension of the Store Bay Local Road and the Claude Noel Highway as well as the dualling of the Claude Noel Highway, said Secretary of Infrastructure and Public Utilities, Mr Godwin Adams. He added that the Minister has also given his commitment to the construction of a new Vehicle Authority Centre in Tobago. Further talk with relevant Ministry units for the redevelopment of the Milford Road from Lowlands to Scarborough is also on the agenda.
Nationally, the Motor Vehicle Authority is expected to replace the Licensing Office by December, 2010. As part of the change, a new national vehicle licence with special security features will be issued, Ministry officials noted.
Following the press conference, Mr Warner and other Ministry officials were expected to tour the Crown Point Airport, the Scarborough Port, the Licensing Office and the proposed site for the Motor Vehicle Access Centre.