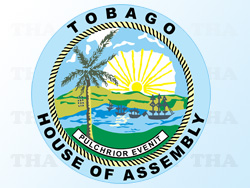 The Administrative Complex for the THA Division of Agriculture, Marine Resources, Marketing and the Environment is being built on three acres of land at the corner of Shirvan Road and the Claude Noel Highway, Secretary of Finance and Enterprise Development Dr Anselm London has disclosed.
He said contrary to the claim by the TOP leader Ashworth Jack and its chairman Lionel Coker the more than 120,000 square feet of land cost $12 million at $100 per square foot. Dr London added that they both had said the parcel of land was 40,000 square feet and described it as the "El Dorado" of Tobago.
The Finance Secretary said the building will comprise of 90,000 square feet and the entire project will cost approximately $140 million to be built over an 18-month period.
Dr London said the price for the land was not decided by the Assembly but the government Valuation Department.
He said the THA did not have access to the market and direct access to funds and as a result decided on the BOLT (Build, Own, Lease, Transfer) arrangement. He said the Assembly had received an unsolicited proposal from the developers in 2006 and the project was evaluated by Project Specialist Limited.
Dr London said both Jack and Coker should apologise for again misleading Tobagonians and was very disappointed that had tried to sully the names of hard working public officers.