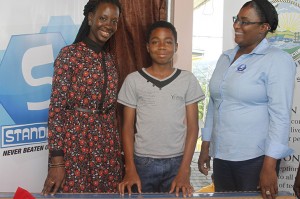 In mid-December, most 14-year-old children in Tobago are probably knee-deep in holiday preparations or wondering what present they're going to get on Christmas Day.
Not Jakeem Welch, who received his gift—a 55" Samsung Smart TV—ten days early, presented by representatives from the Office of the Chief Secretary. Jakeem's was the winning entry at the Tobago House of Assembly's two-day exhibition at the Shaw Park Complex on December 2-3, in commemoration of Tobago Day.
The television was sponsored by Standard Distributors, whose staff was also on hand to witness the expression of shock the Scarborough Secondary student wore throughout the presentation at his Calder Hall home.
In fact, his mother, Jacquelin Dyer was also stunned when she received a call from Chief Administrator Raye Sandy informing her of the prize. She kept it a secret from her son until he was officially presented with the television a few days later.
The family previously, owned a 17-year-old RCA television. Jakeem was visibly shocked and took some time to find his words.
"I'm a little bit excited, but more surprised because I never thought I was going to win this TV. I'd like to thank all of you for this lovely prize," he said, adding that he would tell his friends at school: "I won a 55" Smart TV."
His father Roy Welch said the surprise "has taken the cake" and thanked Standard Distributors, saying he is one of their loyal customers.
"To Mr. London and his staff I would like to say thank you," the senior Welch said, "and I hope it opens up the eyes of Tobagonians to the efforts you are making to reach out to the people of Tobago."