Tourism Youth Congress Returns
Youth in Tobago are gearing up for the highly-anticipated Tourism Youth Congress on Friday, July 1st. The event is being hosted by the Division of Tourism, Culture, Antiquities and Transportation at the Anne Mitchell-Gift Auditorium of Scarborough Library Facility from 9:30 a.m.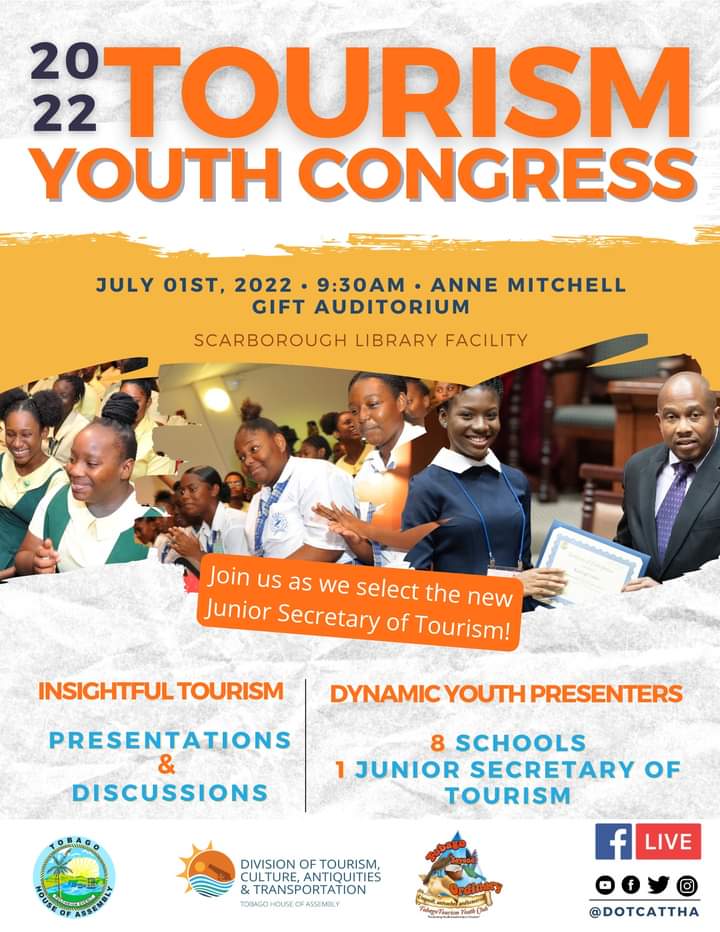 The Congress targets secondary school students ages 14 to 17 years old with an aim to foster greater awareness of the value of tourism and generate excitement about the sector among young people on the island.
During the event, students from the island's eight secondary schools will vie to be selected as Junior Secretary of Tourism. The Junior Secretary is expected to represent Tobago at the regional Caribbean Tourism Youth Congress, hosted by the Caribbean Tourism Organization (CTO), later this year.
As the Junior Secretary of Tourism in Tobago, the winning student will be officially involved in tourism-related activities. After a two-year hiatus, the event returns to the island.
"Over the last two years, the competition was not held due to the Covid 19 restrictions, which in essence affected the execution of many of our youth and school-based programmes," Programme Coordinator Sandra Orr-Toney said.
"We are therefore extremely happy to once again host this programmme, which in essence seeks to inspire our youths and provide them with an excellent opportunity to continue to learn about tourism and create awareness of the sector."
The two former Junior Secretaries of Tourism for Tobago were Roxborough Secondary student Jahmone Madden and Scarborough Secondary student Kayleigh Lewis.