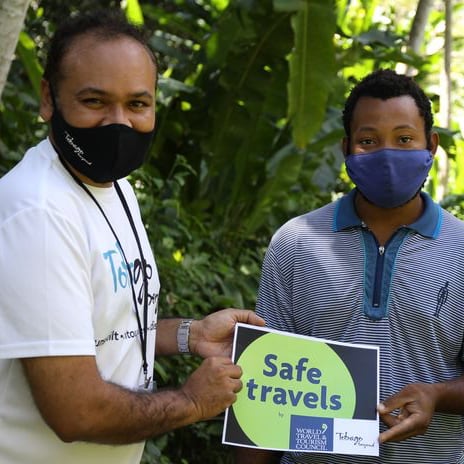 The Tobago Tourism Agency Limited (TTAL) continues to work towards positioning Tobago as a safe destination for travel.
TTAL is the only organization that has permission to distribute the World Travel & Tourism Council (WTTC) Safe Travels stamp in Trinidad and Tobago. The WTTC stamp is helping to restore consumer confidence, denoting those destinations around the world that uphold a globally standardized set of COVID-era health and safety protocols.
The Corbin Local Wildlife Park, located on Belmont Road in Mason Hall, recently received that stamp of approval. Establishments receive the stamp after reading the Health and Safety manual on the Tobagotourism.org website, filling out the compliance application and submitting it to TTAL.
TTAL monitors their compliance to global health protocols through spot checks and site inspections of local tourism businesses.
"The WTTC Stamp is important because it positions Tobago as a safe option for international travellers when our borders reopen. One hundred and ten businesses have applied, including guest houses, tour guides, and individuals offering ancillary services such as restaurants," said TTAL's Director of Product Development and Destination Management Narendra Ramgulam. "Persons have to fill out a compliance form to be considered for approval."
TTAL continues to collaborate with the island's tourism stakeholders to ensure that the future of travel is safe and secure. Destination Tobago received the World Travel and Tourism "Safe Travels" global safety and hygiene stamp for travel and tourism in July 2020.
To apply for the WTTC stamp or obtain additional information, call (868) 612-8825; Ext 2001 or email: destination@tobagotourism.org.