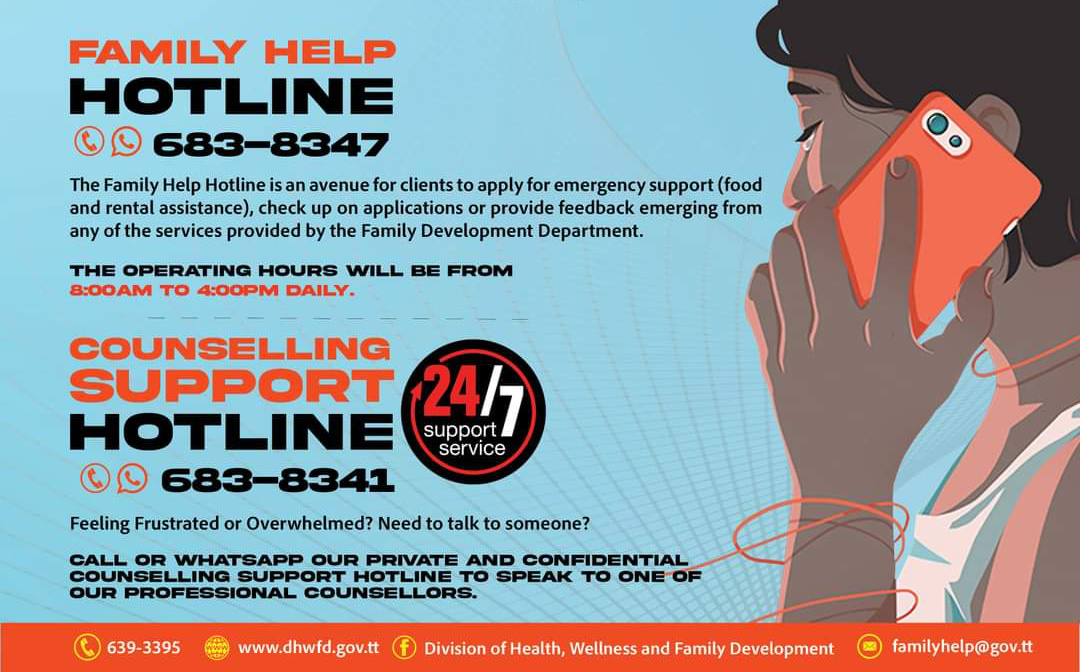 The COVID-19 pandemic has resulted in persons spending most of their time at home. For some people, the home environment has been filled with stress and discord during these challenging times. ​As the number of cases of COVID-19 increases, so do related feelings of anxiety, fear and uncertainty.
The Division of Health, Wellness and Family Development is imploring citizens to prioritize their mental and emotional well-being and seek the necessary help.
Health Secretary Tracy Davison-Celestine advised: "Our mental health teams are standing by and we are ready to provide counselling care to persons who are overwhelmed at this point in time."
If you are experiencing feelings of frustration, sadness or stress and need someone to talk to, please call or Whatsapp the Counselling Support Hotline at 683-8341. The hotline is available 24/7 where a professional counselor is available to speak with you.
"When persons feel overwhelmed emotionally and want someone not familiar with them to speak to in a confidential manner, calling the Counselling Support Hotline is a great choice. Whatsapp messaging is also an option of accessing the counseling service," said Tyneille Graham of the Division's Children and Family Unit. The messaging option was put in place for persons not in a position to, or who were not comfortable talking.
The Division also has a Family Help Hotline that is available to provide information on food and rental assistance applicants. If you need to apply for emergency support, namely food and rental assistance, contact the Family Help Hotline at 683-8347. The hotline operates daily from 8 am to 4pm.
Finally, if you know someone who is in need of counseling support or family help, share the information so others can receive the help that they need.