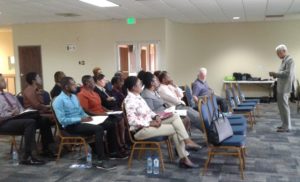 Officials from the Tobago House of Assembly and private stakeholders attended a one-day sensitisation workshop on fair trading on February 14 hosted by the Trinidad and Tobago Fair Trading Commission (TTFTC).
The session featured a series of presentations examining key aspects of fair competition, key provisions of the Fair Trading Act and the role of the Fair Trading Commission.
There were also Q&A segments where concerns were raised about establishing linkages to agencies to boost the effectiveness of the Commission. The Commission was encouraged to continue its sensitisation efforts toward the full proclamation of the Fair Trading Act.
Officials from the THA and key private stakeholders comprising of representatives from the Tobago Hotel and Tourism Association (THTA), Tobago Tourism Agency Limited and Eco-Industrial Development Company of Tobago (E-IDCOT) Limited were the beneficiaries of the workshop.
The event took place at the Penthouse, Victor E. Bruce Financial Complex, Division of Finance and the Economy, Scarborough.