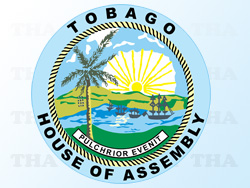 Chief Secretary Orville London will ask the Tobago House of Assembly to commend and support the decision of the island's political leaders to collaborate in the pursuit of full autonomy for Tobago.
The House meets at 1.30 p.m. on Thursday (January 23 2014) to debate a motion on the matter. London will also ask members to urge all individuals, groups and sections on the island to unite and collaborate in devising a process and implementing appropriate strategies to facilitate the attainment of full autonomy for Tobago.
In a preamble to the motion the chief secretary stated that the achievement of full autonomy remains the most critical issue facing Tobagonians at this time while a lack of cohesion among decision makers and interest groups is one of the factors which has frustrated the process, over many decades.
He said on this issue, the interest of Tobago and Tobagonians must take precedence over political and other considerations.
Leaders of the political parties which contested the January 21 2013 THA elections, Ashworth Jack of the Tobago Organisation of the People (TOP), Hochoy Charles of the Platform of Truth and Neil Wilson of the Tobago Council of the People's National Movement met on January 7 under the chairmanship of the Chief Secretary to discuss the granting of full autonomy for Tobago. They are to meet again next month.