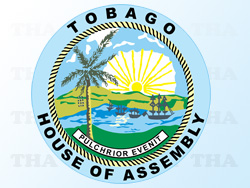 Chief Secretary Orville London has expressed surprise and disappointment at the comments made in the report of the Constitution Commission headed by Legal Affairs Minister Prakash Ramadhar, suggesting that the Commission's silence on internal self government for Tobago was instructed by a conversation with the Chief Secretary.
London recalled that, at a courtesy call made by the commissioners before they started their round of consultations in Tobago, he expressed concern that the island's ongoing quest for internal self government could be subsumed in a Constitution Commission. He explained to the commissioners that significant progress had been made in consulting and gaining wide support from the people of Tobago for greater autonomy and there were fears that the process could become embroiled in a Constitution Reform exercise which could "drag on" for years. He also shared his disappointment that the decision had been taken to appoint a Minister of Government as Chairman of a Commission whose impartiality must be accepted by all participants.
The Chief Secretary said that it was quite disingenuous of Minister Ramadhar to try to convince the national public that he had disobeyed the mandate given to him by the Prime Minister and the Cabinet on a purported instruction from the Chief Secretary, at a courtesy call.
London also noted that, in subsequent public statements, he had encouraged all Tobagonians to share their views with the Commission.