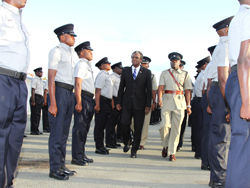 The Tobago Police Division has been strengthened with the addition of 53 special reserve officers.
The all male batch graduated on Wednesday (19th February 2014) at a ceremony at the Buccoo Integrated Facility.
In congratulating the recruits in successfully completing their 6-month training Chief Secretary Orville London said he was happy the Police Service had taken steps to increase its manpower on the island.
He told the officers that fighting crime has to be a Tobago and people centric approach. He said there was nothing to being a good policeman and a good person.
London said by the end of the month he expected Assistant Commissioner of Police (Tobago) Brian Headley to present a report on how to treat crime in Tobago. "We are not only losing Tobago but our Tobagoness," he added.
The Chief Secretary who inspected the parade by the SRPs promised the Assembly's support to the service.
ACP Headley said the graduation of the recruits could not have come at a more opportune time and urged them to put the authority vested in them to proper use and must not be abused.
The recruits were trained in drill, evidence law and traffic law among other areas.