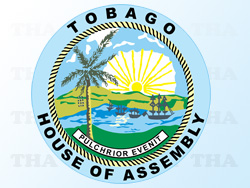 Chief Secretary Orville London has issued a warning to Tobago truckers who purchase aggregate from the Tobago House of Assembly (THA) Studley Park Quarry at a subsidised price of $72.64 per ton and sell it for as much as five times more.
He said an investigation into various complaints on the current availability of materials and pricing from the general public revealed that a large contributor to these issues was a lack of regularisation of distribution and the price of transportation of aggregate.
He added that the lack of public awareness that aggregate can be bought from the Division of Infrastructure and Public Utilities and not the truckers themselves has resulted in various transportation entities taking advantage of the situation and setting the price of material as high as $3,000 to $4,000 for a load while having paid only $600.
In other words, he told Thursday's sitting of the Assembly that one can go to the quarry with an 8-ton truck, pay $72.64 a ton, and stockpile it in the back of your yard and selling it at $2,000 to $3,000. "So we are actually subsidising the aggregate, the whole process but the consumer whom we want to help is not benefitting. I am saying that that is one of the issues, one of the areas we want to put some emphasis and whether it means buying our own trucks I do not know.
"This is something this administration is not going to tolerate because you cannot take taxpayers' money and subsidise an operation to benefit taxpayers and a few unscrupulous individuals benefitting from it. I just want to put these entities on notice that that situation is not going to continue for very much longer because it is not right it is not fair you can't buy something for $600 and transport it down the road and sell it for five times the cost when we are subsidising it," London said
He said the quarry was one of Tobago's most important assets and over the years the Assembly had made significant investment and every effort to ensure that it was operated in a manner which will benefit the people of Tobago.
London said during this fiscal year the Assembly was going to demand value for money which was not only about the quarry, but also has to be related to how people work.
"Where you have a situation where the THA employs 50 per cent of the working population, that is not tenable and therefore some adjustments have to be made. The only way that can be made is if the private sector is in a position to expand its employment and people are in a position to go to the private sector," he said.
He said employment in the private sector can be a first option but too many persons see it as being the second option. He added: "When you look at the realities of employment within the THA in most areas we have reached saturation point and therefore if people do not start responding to the private sector a number of things could happen; the private sector will continue to contract and people will continue to be unemployed because the capacity of the THA as an institution to have more persons employed, that capacity is lessened in addition to which the level of employment in the THA is unsustainable and to a certain extent untenable."