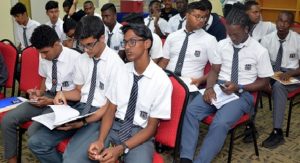 Twenty-five Standard Five students of San Fernando-based Naparima College got a front row experience yesterday (February 21) of what Tobago tourism has to offer.
During their visit to the island, they attended an interactive tourism information session at the Scarborough Library Facility. The session was hosted by the Tobago Tourism Agency Limited (TTAL) and the Tobago House of Assembly's Division of Tourism, Culture and Transportation.
The session proved useful to the Social Studies students in helping them to complete their school based assessments (SBAs). They got valuable information from tourism representatives, including from TTAL's Director of Product Development and Destination Management Korice AQ Nancis and Marketing Coordinator Sheena Des Vignes.
For the island's tourism body, the experience was also a great opportunity to share what tourism means to Tobago.
"This was a welcome opportunity to create tourism ambassadors for both our islands, and generate interest in tourism among our nation's youth," Nancis said. "We at the Agency are always happy to share our passion for, and knowledge of tourism with stakeholders at every level."
The Naparima students learned about the types of tourism products in Tobago, the impact of the industry on the island's physical, sociological and economic environment, and government policies that influence the development of tourism.