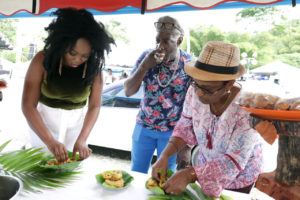 On October 19th and 20th, Tobagonians showed their appreciation for the root-tuber dasheen at the Blue Food Festival.
At the festival, this indigenous crop is prepared in a myriad of ways to satisfy a variety of palates. The event provides a unique twist on traditional culinary festivals, focusing on this one versatile root vegetable.
It was a clean sweep for Yzanne Williams-Chance, representing L'Anse Fourmi, who won first place for Best Dasheen Drink, Best Dasheen Dessert, and Best Dasheen Meal.
The Blue Food Festival is hosted annually by the Tobago Festivals Commission at the Bloody Bay Recreation Ground.