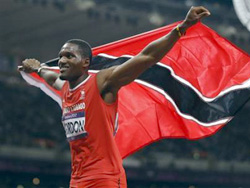 The Tobago House of Assembly (THA) will pay special tribute to the Tobago-based athletes who participated in the 2012 London Olympics at a function at Coco Cafe, Crown Point at 7 p.m. on Monday.
During the function special guest will be Tobago-born double bronze medalist Lalonde Gordon.
THA Chief Secretary Orville London said today (Friday 17th August 2012) that the other Tobago Olympians will not be available at this time. He said female hurdler Josanne Lucas and 400 metre runner Renny Quow were still recovering from recent injuries and have to undergo a period of rehabilitation while sprinters Kelly-Ann Baptiste and Semoy Hackett have commitments on the international circuit.
However, he said, the parents of all five Tobago Olympians have been invited along with coaches Gerard and Wade Franklyn and Durly Lucas who were instrumental in the development of the young Tobago athletes over the past two decades.
The Tobago members of the national squad who had outstanding results at the last Carifta Games have been invited to the function.
Presentations of monetary and units from the Unit Trust Corporation, similar to those presented to Baptiste, Lucas and Quow following their performance at the last World Campionship are expected to be made to the Olympians.