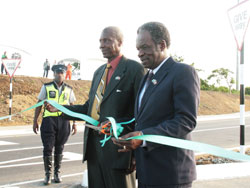 Tobago got its second roundabout on Thursday (1st November 2012) at a cost of $8.3M at the Auchenskeoch and Claude Noel Highway intersection.
Police had to stop the traffic on the highway for some five minutes to allow THA Chief Secretary Orville London and Infrastructure and Public Utilities Secretary Hilton Sandy to cut the green ribbon stretching across the road.
Prior to the ribbon-cutting ceremony Sandy told an audience of mainly Secretaries and staff of his Division that the sum of $4M was budgeted for the construction of the roundabout and an additional $4.3M in variation cost involving the removal of soil and the refilling of the roadway up to four feet deep before paving. The project was completed in 12 weeks.
Sandy said the project had brought a welcome change to the landscape of Tobago, adding at roundabouts will also be built at Orange Hill Road and Shaw Park, Mt Marie and the Claude Noel Highway and the Shirvan and Claude Noel Highway intersection.
William Aguillar, representing the contractor BBLF Caribbean Limited said the roundabout provided the highest capacity for traffic flow and the highest level of safety. He said the roundabout had a unique stripping and design, the first of its kind in the Caribbean and would be used as a model for others.
Chief Secretary London said members of the Executive Council had taken lot of blows from sections of the public when the project started but this did not daunt them. Instead they took a decision to continue the project and to build more roundabouts for the convenience of motorists.
He said the project was not just about vision, it was a project not just about commitment, it was a project about courage because after the vision it took courage to stand up against all the naysayers and all those who they may have influenced to give the impression that not only this was not going to happen but that it should not happen.
"We have to learn from the lessons of this exercise because this was about development and change, we cannot have development except there is change and people cannot accept development and appreciate development except they change their mindset. If we go into the next decade with the mindset we have many of us are in fact going to become the kind of individuals that are detrimental to development because development and change go hand in hand," London said.
London said his administration was committed to development and therefore must be committed to change and "we are hoping that people will understand that".
He said it also had to do with the relationship with leaders and decision-makers. "I want to suggest to all of us that you have got to make a choice and I want to suggest that you cannot on one extreme or the other, you cannot be on a point of blind loyalty of anything your leaders do, nor can you be on the other side of reasonable scepticism where everything they do is wrong; people have a responsibility to evaluate what is being done and evaluate in a way that at the end of the day you come to a balance judgement; otherwise you sometimes force your leaders and decision-makers to become so conservative that development is frustrated and I don't want to live in a society like that and I don't want to live in a Tobago like that," London said.