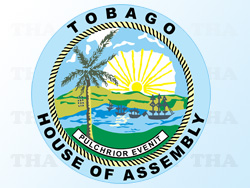 Assistant Commissioner of Police (ACP) Hugh Lovell who has been serving as head of the Police Division in Tobago since February 1 2011 will proceed on pre-retirement leave on Wednesday. (10th April 2013)
He is being replaced by Senior Supt Helfin George who served in Tobago for two years as a senior superintendent..
ACP Lovell paid a farewell courtesy call on THA Chief Secretary Orville London at his Calder Hall office on Monday. He was accompanied by George. Assistant Secretary Deon Isaac and Chief Administrator were also present.
During the meeting London thanked Lovell for his successes during his term of office and the level of collaboration which was maintained between the Division and the Assembly.
Lovell said he shared some of the concerns which London had raised in a recent letter to National Security Minister Jack Warner relating to the resumption of meetings between heads of national security units in the National Security Ministry and the THA to discuss security in Tobago.
Among the issues London had raised in his letter to Warner were the construction of Police Stations at Old Grange and Roxborough; increase in the number of officers in the Tobago Police Division; concerns over communication challenges, transportation needs and the availability of essential equipment in the Tobago Division; plans to manage security in the unique Tobago environment; construction of Fire Services headquarters and Fire Stations in Tobago; security concerns at the Scarborough Port and the ANR Robinson airport; adequate patrols and surveillance of other entry points to Tobago; traffic wardens; the role of the Defence Force in Tobago; and consistent disaggregation of the crime statistics for Tobago and Trinidad.