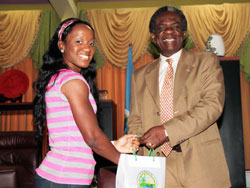 She hasn't yet reached her peak and still has many years ahead of her.
This was an assurance given by Olympian Kelly-Ann Baptiste when she made a courtesy call on THA Chief Secretary Orville London on Monday at his Calder Hall office.
Baptiste thanked the Chief Secretary and Tobago for the support she has received. She said that though she had high expectations, the support of others "helped pick me up from the slump."
But Mr London reassured her. "We do not equate success only with medals," he said.
The Chief Secretary described Kelly-Ann as "an exemplar to Tobagonians." He said Tobago appreciated the effort Baptiste made in London, despite her disappointment. Baptiste had started the season at a near personal best, but injury forced her out of this year's Olympics, though she had made the final of the women's 100 meter.
The Flordia-based athlete took a 3 hour flight to Tobago last Thursday, celebrating her 26th birthday on the island on Sunday. Graduating from Louisiana State University in 2011, Baptiste has a BA in Psychology and would like to continue her education in two years.
Baptiste said she viewed upcoming track and field events as "markers to indicate what I need to change" in preparation for the 2016 Olympics in Brazil.
Baptiste is scheduled to leave Tobago on Wednesday and officially resumes training on November 6th.