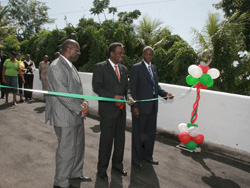 Motorists coming from the east and north of Tobago are now finding an ease in traffic into Lower Scarborough with the opening of a link road on Thursday. (December 15 2011)
The 120-metre road built at a cost of well within the budget of $1.9 million links the Claude Noel Highway to Gardenside Street, thus eliminating travel through the busy Wilson Road intersection 400 metres away.
THA Chief Secretary Orville London who cut the ribbon to officially open the road recalled that the delay in carrying out the project was as a result of legal and technical issues. He however took the decision to get the project done.
He said the project was included in the Assembly's plans to upgrade the road infrastructure in the island that included the repaving of roads in every electoral district and improving the agricultural access roads. London explained that the programme was prioritised and repair crews remained in each district until all its roads were done. "Of course we cannot do all the roads in the island at the same time so it would take some time for the entire programme to be completed," he added
London said the project was part of the beautification of Scarborough and promised that within two months artists will be engaged in doing paintings on the wall bordering Gardenside Street, Scarborough. In addition work on a boardwalk along Carrington Street will begin early next year and will include the taking down of the brick and concrete wall at the Scarborough Port and replacing it with a fence that would provide a view of the scenic Atlantic Ocean.
The Chief Secretary also urged motorists and other road users to be more responsible. He stressed that the new link road will alleviate some of the traffic challenges facing motorists in getting into Lower Scarborough.