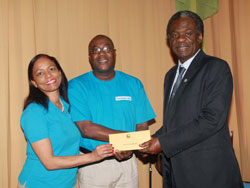 Assemblymen of the Tobago House of Assembly (THA) as well as a number of Tobagonians continue to contribute to the rebuilding of Haiti following the January 12 2010 earthquake which devastated most of the country.
The Assemblymen and individuals donated more than TT$100,000 to the Haiti Disaster Fund launched by the THA shortly after the earthquake. A cheque representing the sum was presented by Chief Secretary Orville London to two representatives of the HAIT&T Foundation, a registered non profit organisation, at his Calder Hall office last week.
Founder and Director of HAIT&T Dr Paula Henry said her organisation was grateful for the donation which will go towards financing the construction of a home for 160 homeless children between the ages of 6 and 16 and a primary school for 140 other children to be operated by the Sisters of St Joseph of Cluny in Port au Prince.
She added that the project will cost between TT$10 million and $12 million and will replace the completely destroyed La Madeleine Orphanage run by the Sisters. Dr Henry was part of a medical team sent to Haiti by the T&T Chapter of the Sisters of Cluny to assist its Haiti counterpart.
On her return home Dr Henry, a graduate of Hariot Watt University in Scotland got other MBA graduates of the institution involved in forming the Foundation to raise funds to rebuild the home and school.
In presenting the cheque Chief Secretary London said the Assembly and the people of Tobago were happy to partner with the Foundation to provide for the young children of Haiti who were living and going to school under tents. He said this was Phase One of the Assembly's efforts and in the future would find a way to continue to assist those children.