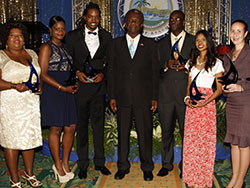 Tobagonians were honoured during the annual Chief Secretary Awards on Thursday night (December 4, 2014), which recognised individuals and groups for their contribution to society over the last 12 months.
The award recognises the achievement of Tobagonians in several fields including tourism, entrepreneurship, and academics. The Magdalena Grand Beach and Golf Resort received an award for Tourism; Rachel Boodram, Verneth Joseph, and Dr. Wendell C. Wallace received awards for Academics; Principal of Scarborough RC Primary School, Phillip Rochford, received an award for Gallantry; Charmine Springer of Springtime Food Products Limited received an award for Entrepreneurship, and Joel "Positive" Murray received an award for his contribution in the Culture and Entertainment sphere.
THA Chief Secretary Orville London presented the awards to the recipients at the Magdalena Grand Beach and Golf Resort, Lowlands. The event formed part of the 34th anniversary celebrations of the Tobago House of Assembly this week. Assembly Day is usually celebrated on Dec 4th. A two day exhibition was also held on Wednesday and Thursday, and featured Divisional displays, as well as a cultural show.