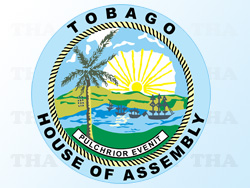 State-owned Caribbean Airlines (CAL) was heavily criticised at yesterday's (Tuesday) monthly meeting of the Tourism Standing Committee on Tobago.
Chairman of the committee THA Chief Secretary Orville London said at the media briefing following the four hour meeting at the Blue Haven Hotel Scarborough that the committee was "extremely concerned about the lack of capacity of the airline to service the air bridge. He disclosed that the national airline was supplying 20,000 seats less this year than in 2011. He said CAL did not have the capacity to adequately service the air bridge.
President of the Tobago Hotel and Hospitality Association Nicholas Hardwicke indicated the CAL representative at the meeting explained that it had consolidated flights while it had technical issues. He said his association did not see any evidence that CAL would improve the situation. "We are only getting excuses from the airline," he added.
Hardwicke said the unavailability of seats was affecting the local tourism sector, adding that less people were now coming to Tobago.
However, on the international side, THA Tourism and Transportation Secretary Assemblyman Oswald Williams disclosed that Virgin Atlantic Airlines and Condor Airlines had indicated it was doubling its services to Tobago in the winter and "works are in progress" to break into the Scandinavia market. Williams said his biggest concern was the inadequacy of the terminal building at the ANR Robinson International Airport which was bursting at its seams to accommodate two international carriers at one time. "The airport terminal is woeful for our current needs," he added.
Williams said designs for a new airport terminal were agreed upon more than two years ago but he had not heard of the forward movement of the plans since then. He said new Minister of Tourism Stephen Cadiz who attended his first committee meeting has promised to pursue the matter.