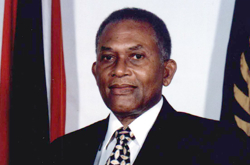 Chief Secretary Orville London says that he appreciates the way in which the Tobago House of Assembly is involved in the funeral arrangements for former Prime Minister and President Arthur NR Robinson, and the level of respect that is being given to it and to the concerns of the people of Tobago.
London attended the second meeting of the committee planning the arrangements for Robinson's funeral. THA representatives were also present at other meetings.
The Chief Secretary said he wanted to extend his appreciation to Robinson's family and National Security Minister Gary Griffith and his team for ensuring that the views of the people of Tobago are given proper consideration.
Robinson, who died 9 April, will be given a State funeral over five days in Trinidad and in Tobago. His body will lie in state at the Legislative Chamber of the Tobago House of Assembly on May 2, between the hours of 8.30 a.m. and 5.45 p.m.
On May 3, there will be a State ecumenical service at the Dwight Yorke Stadium starting at 9.30 a.m. followed by a private thanksgiving service at the Scarborough Methodist Church. This service will be followed by a final procession with full military honours starting at 3.30 p.m. at the Coast Guard Base at Shaw Park to the Methodist Church Cemetery in Bacolet.
London said that the Assembly will ensure that the ceremonies in Tobago would be conducted in a manner that pays fitting tribute to this famous son and that as many Tobagonians as possible can participate.
On Thursday the House of Assembly observed a minute's silence for Robinson at its April plenary sitting. Later the Presiding Officer Kelvin Charles and London spoke of some of Robinson's achievements. His body will lie in State within the chamber where he presided at meetings as the Assembly's first chairman from 1980 to 1986.