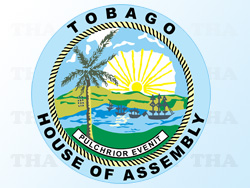 Over 9,000 workers of the Tobago House of Assembly (THA) will have to wait another six weeks to know when they will share in a $300 million back pay representing arrears of wages and cost of living allowance for the three-year period 2008 to 2010.
THA Chief Administrator Dr Ellis Burris said in an interview the delay in payment was creating a level of discomfort mainly among the Assembly's daily-paid workers.
He said he did some investigation to determine how soon the Assembly will be in a position to pay the arrears and discovered from the Ministry of Finance and the Economy that funds were not available to be paid at present.
He added that though a request for the release of such funds was made to the Ministry this will be done after the Central Government's mid-year review which was due to be completed by the middle of next month. He noted that it may take another two to three weeks or so before the Assembly can actually deal with the payment and said the money has to be moved from the Ministry of Finance to the THA for this to be done.
However, Dr Burris said pay sheets have been prepared for all the daily paid workers and some of them have been audited so that as soon as the funds were released the Assembly will be ready to effect payment. "I hope that will bring some level of comfort to the daily paid workers since in the circumstances nothing can be done otherwise," he said.
He said the Ministry had indicated that in preparing the allocation it had only budgeted for a five per cent increase, but the agreement was settled at nine per cent. He explained that the increase allocation has to go to the Parliament for final approval.
The agreement for the increase in wages and COLA for the thousands of daily-rated workers from the Tobago House of Assembly, Central and Local Government, Port-of-Spain City Corporation and other workers represented by the National Union of Government and Federated Workers (NUGFW) was signed with the Government Chief Personnel Officer in November 2012. Besides the nine per cent wage increase for the bargaining period 2008 to 2010 the workers were also entitled to a new COLA of $5.75 a day for 2008 and 2009 and $6.60 a day for 2010.