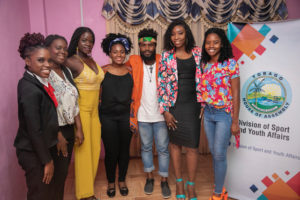 The Division of Sport and Youth Affairs partnered with the Tobago Youth Council (TYC) to host the 'Youth Chill and Chat'. During the second installation of the series at the Roxborough Police Youth Club's conference room on July 25, Tobago's young people were encouraged to create their own path.
Themed 'The orange economy: Youth's impact on the creative industries,' attendees discussed several issues affecting the island's youth demographic including social support, personal image and tertiary education..
Panelist and musician Khalen Alexander said: "Stop looking for opportunity in the distance; create opportunity wherever you are." Other panelists included: Aleah Holder, Adana Roberts, Dayle Angus and Latoya Williams.
Participants were encouraged to develop their talents and look for mentors. The series continues on August 12 and September 23.