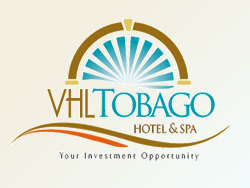 The Vanguard Resort and Spa at Lowlands, Tobago will have its first intake of guests on November 1, 2011.
This was confirmed by Trade and Industry Minister Stephen Cadiz and THA Chief Secretary Orville London on Tuesday following a 30-minute meeting at the Calder Hall Administrative Complex.
Cadiz disclosed that Cabinet had approved a budget of US$25 million for repairs to the Vanguard as well as for marketing, training and recurrent expenditure. He also disclosed that the e-Teck Board had already shortlisted operators for the hotel and will be shortly making a final decision on this. He said the Vanguard will be given a new name.
He said while a fair amount of planning was still going on, the physical work will actually start when the "money is in the bank". He said Richard Saunders President of e-Teck will reside in Tobago as project manager and will in fact be the overall person in charge of the project.
He said another interest for Tobago was that as much of the budget that can be used in the island to provide local services will be spent.
Cadiz also disclosed that Cabinet had approved a government guarantee plan for any tourism plant – hotel, villa and apartment development – that people may want to construct. "There will be a government guarantee that will operate with criteria to ensure the project is a viable one. We are doing that to be able to kick start additional spending in the tourism sector. This is another push to getting the tourism industry back up and running both in Tobago and in Trinidad," he said.
He said he will be sending the criteria that have to be met to the THA.
London said he wanted to commend the Minister and the e-Teck personnel for their commitment to the process and will continue to collaborate with the Ministry to ensure that not only the Vanguard will be completed but that Vanguard will bring the kind of benefits to tourism that will lead to the revitalisation of the tourism sector in Tobago.
He said Tobago contractors will be provided with the criteria to be used as soon as he received it from e-Teck.
The Vanguard was closed two years ago for repairs putting the tourism sector in the island in jeopardy and threats of withdrawing services by the major air carriers from the United Kingdom and Europe.