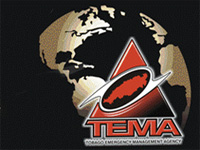 At an emergency meeting held at the Tobago Emergency Management Agency's -T.E.M.A. Head Office at Bacolet, on Friday, November 29 2010, THA Chief Secretary Orville London and Chief Administrator Dr Ellis Burris, along with top T.E.M.A. officials led by Director Owen Sandy met with all first responders to prepare for possible emergency situations during and in the aftermath of Tropical Storm Tomas.
First Responders included: representatives of Trinidad and Tobago Coast Guard, Trinidad and Tobago Fire Service, Trinidad and Tobago Defense Force, Port Authority, Trinidad and Tobago Red Cross Society, Division of Infrastructure and Public Utilities and TSTT among others, along with stakeholder representatives.
At the meeting critical decisions were taken to prepare Tobago at all levels for any disaster that might have happened during and in the aftermath of Tomas.
Among the initiatives discussed was the use of the 2-1-1 Emergency Messaging System to send periodic messages to the Public via their cell phones, among several other emergency measures.
A decision was taken to close all schools at 12:00 p.m. and that employees across the Island be sent home by 1:00 p.m.
The Public was reminded to put all standard procedures in place and to have all necessary food supplies, first aid kits and other vital supplies ready in case of an emergency.
T.E.M.A. Director Owen Sandy indicated that airlift arrangements were in place in collaboration with the Office of Disaster Preparedness and Management (O.D.P.M.), in Trinidad.
Fortunately, Tobago as well as Trinidad was spared the wrath of Tomas except for some cases of flooding and landslides in some areas and damage to property. There was no loss of life and relief efforts were dispatched immediately and are presently underway in affected areas of Tobago.