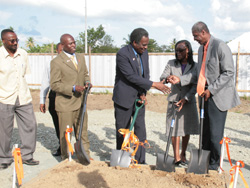 A $15 million public swimming pool is being constructed by the Tobago House of Assembly at Kendall in east Tobago.
Construction of the pool is being undertaken by the YMCA because of its experience gained in the construction of its pool at Courland in west Tobago, THA Chief Secretary Orville London stated at the sod turning of the new 25-metre pool on Thursday.
He disclosed that besides the swimming pool the facilities will include a learning to swim pool, seating, playroom and administrative offices.
London said there will be no discrimination in the use of the facilities that will be opened for all ages in nine months and urged residents of windward Tobago to make full use of them when they became operational. He added that too many facilities provided by the Assembly have been under utilised.
He said Tobago's first public swimming pool at Courland was built at a cost of $12 million of which the Assembly contributed 60 per cent of the cash, land and road infrastructure and was happy to see it was being fully utilised.