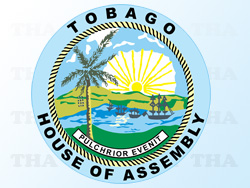 Tobago is to be part of an international coral reef early warning system, Secretary of Agriculture, Marine Affairs, Marketing and the Environment Assemblyman Godwin Adams disclosed on Wednesday. (6th November 2013)
He said specially manufactured buoys will be installed at the World famous Buccoo Reef in southwest Tobago and at the reef offshore Speyside in east Tobago next week.
He told Wednesday's post Executive Council media briefing that the system known as CREWS (Coral Reef Early Warning System) was in keeping with activities coming out of the Institute of Marine Affairs (IMA) working in collaboration with the Division.
He explained that the buoys will monitor climate change, coral bleaching, and changes in the reefs, identify any damage done to them and other marine activities around the island at an early stage. He said the data would be transmitted to a central location at the Buccoo Training Centre, adding that this data would then be transmitted throughout the Caribbean and internationally. "This in a sense is an internationally operated system to check on reefs around the world," he said.
Adams said the first buoy will be installed at the Buccoo Reef on Wednesday (November 13) and the other at Speyside on November 15.
He said the Assembly will collaborate with the IMA in educating and informing the people in the various communities on November 15 and 16. He added that workshops will be held at the Buccoo Community Centre on November 21 and at the Speyside Community Centre on November 22 to which nongovernmental organisations and other interest groups were invited to attend to become aware of what the system was about.
"It is a very important piece of equipment that will give us an account of what is happening in our waters around the island at an early time to enable us to take the appropriate action," Adams stressed.