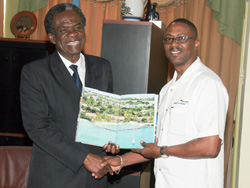 Chief Secretary Orville London is recommending that the issue of sustainable development of tourism in the Caribbean should be high on the agenda of the next Caricom Heads of Government meeting later this year.
He was one of two delegates that represented the THA at this week's 14th Annual Caribbean Conference on Sustainable Development of Tourism in the Caribbean hosted by the Caribbean Tourism Organisation at the Hyatt Regency Hotel in Trinidad. The Assembly was also represented by tourism and Transport Secretary Assemblyman Tracy Davidson-Celestine.
London said the consensus among delegates at the conference was that the challenges facing conference organisers was that many of the highly relevant recommendations of the conference had little chance of implementation because of the day to day challenges facing the decision-makers.
London was speaking after a 45-minute meeting with delegates of the Turks and Caicos Islands led by its Premier Dr Rupert Ewing and St Lucia's Tourism Minister Lorne Theophilus at his Calder Hall office on Wednesday.
The two foreign delegates took time on Wednesday to visit Tobago where they found the ambiance in the island to be very similar to their countries. Before meeting with London they were taken on a tour of the island and expressed delight in having done so.