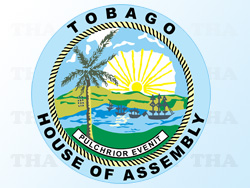 The Tobago House of Assembly (THA) will have its first working session on Thursday (February 5 2013) since the January 21 election in which the People's National Movement (PNM) won all 12 seats.
Chief Secretary Orville London will move a motion asking the House to endorse the strategies and initiatives proposed by the Executive Council for the further enhancement of the democratic process in Tobago.
The Preamble to the Motion states that despite the absence of any opposition voice in the House, this administration remains committed to the further enhancement of the democratic process in Tobago.
London said on Tuesday that he would provide proposals on what his administration will do to democratise the process of governance in the next four years. This will include the establishment of a Tobago interest group represented by all sectors in the island including the media, the Chamber of Industry and Commerce, Village Councils, youth organisations and religious bodies.
Plenary sittings of the Assembly are held on the fourth Thursday of every month. However, according to Section 62 of the THA Act, the first ordinary sitting of the House must be held within 15 days of the swearing in of its members. Arrangements have been made for sittings of the House to be carried live on Tobago Channel 5 starting at 1.30 p.m.