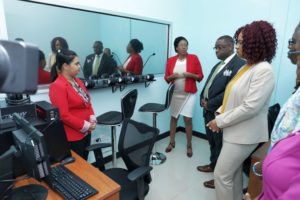 The Children's Authority of Trinidad and Tobago has established a regional office space in Tobago. This means Tobagonians now have more convenient access the Authority's services.
On Friday (May 17, 2019), the Authority commissioned the Tobago Regional Office and Assessment Centre at Pascal Village Extension in Lambeau.
The centre is equipped with a forensic interview room, a client room and a medical examination room. Doctors, social workers and psychologists and a child and family team are also available.
Director of the Children's Authority Safiya Noel said this will ensure that children can benefit from a holistic treatment plan in one location. It's also creating greater efficiency.
"Every time a call comes through for a Tobago case, it gets sent to Tobago immediately and persons are able to respond," Noel said. "So it doesn't go through the usual triaging process for Trinidad. So now that we have a specific team for Tobago [we can get] Tobago reports much sooner."
Anyone wishing to contact the Authority can do so via its toll free numbers— 996 or 800-2014.