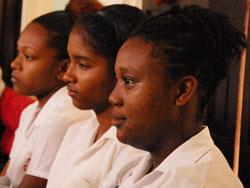 Members of the Tobago House of Assembly (THA) passed a motion on Thursday night expressing their dissatisfaction with the $2.477 billion budgetary allocation to the Assembly for fiscal 2014 and its inability to address on-going and development plans for Tobago.
The motion moved by Finance and Enterprise Development Secretary Joel Jack also mandated the Executive Council to explore all alternative funding and financing mechanisms within the framework of the THA Act, to advance and accelerate the implementation and execution of capital project on the island.
He said despite the 50 per cent shortfall in the Assembly's request for $4.95 billion he guaranteed the continued employment of all THA and contract workers, the continuing of the URP and CEPEP programmes and the social programmes that support the vulnerable in the society.
He reported on the meeting Chief Secretary Orville London and himself had with Finance Secretary Larry Howai two weeks ago on options available to the Assembly to source funds through two issues of $1B bonds, a Tobago Development Bank and Public Private Sector Partnerships (PPP).
Jack said while the Minister did not agree with the issuing of bonds because it would increase the government debt, he was more inclined to accept the PPP option. In winding up the debate on the motion some ten hours and 13 speakers later, Jack disclosed that the PPP option would be triggered early in 2014 to construct the head office of the Division of Education, Youth Affairs and Sport, followed by the Bacolet Indoor Sporting Complex and Aquatic Centre.
He stated that the PPP option was similarly being used as a BOLT (Build Own Lease Transfer) arrangement for the Milshirv office complex for the Division of Agriculture, Marine Affairs, Marketing and the Environment which was stalled by the unsuccessful court action of Attorney General Anand Ramlogan. Ramlogan withdrew the matter and instead asked the court for an interpretation of the law regarding the Assembly's authority to borrow money.
Jack announced that the $143 million Milshirv project at the junction of the Claude Noel Highway and Shirvan Road, Lowlands will resume on November 11 and would be completed in 16 months.
He said the promise made during the assembly's election campaign by Prime Minister Kamla Persad–Bissessar to increase the budgetary allocation to Tobago from a minimum of 4.03 per cent and a maximum of 6.09 per cent to a predictable six to eight per cent of the national budget was not kept while the pledge by the Minister of Finance to give Tobago its "fair share" was not honoured.
In his contribution to the debate Settlements and Labour Secretary Huey Cadette said the Assembly would be unable to build more than 25 houses with the allocation provided to the Division and was hoping to undertake the PPP option to provide low income units at Shirvan, the Tobago Race Club land, Friendship and Adelphi among other areas.