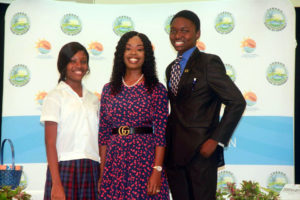 The new Junior Secretary of Tourism is 16-year-old Kayleigh Lewis of Scarborough Secondary School.
She placed first at the Second Annual Tourism Youth Congress on Friday (June 28, 2019).
The event was held at the Anne Mitchell-Gift Auditorium with eight representatives from secondary schools competing for the title.
Prior to the competition, each participant was required to select one of three topics provided, prepare a three-minute presentation on the chosen topic and answer a mystery question.
Lewis presented 'Excellence in Caribbean Tourism' and shared three strategies that her Division and its stakeholders proposed to adopt in pursuit of achieving service excellence within the tourism sector. These strategies were 'Know your clients to deliver what they desire', 'Ensure collaboration amongst other departments to achieve one common goal for Tobago's growth' and 'Notch it up an app.'
Secretary of Tourism, Culture and Transportation, Nadine Stewart-Phillips, urged participants to understand and embrace their roles in advancement of the island's tourism agenda.
"Globally, we continue to see the increase in youth involvement on a strategic level and I am hopeful that the presentations today can be used to further advance our island's tourism thrust. The topic choices are relevant to the technological age in which we live in and are also very applicable to the Caribbean's changing tourism sector," she said.
Lewis will serve in the Junior Secretary of Tourism for one year. She received a $3000 cash prize sponsored by the Division of Tourism, Culture and Transportation and will represent Tobago at the Caribbean Tourism Organization (CTO) Regional Youth Congress in October 2019. Adriel Wheeler of Speyside High School placed second and Akila Jack of Signal Hill Secondary School placed third.