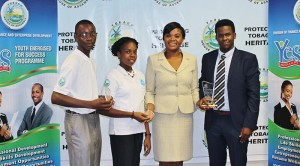 The Division of Finance and Enterprise Development's Youth Energised for Success (YES) Programme formally closed its two vacation projects at the Victor E. Bruce Financial Complex today. Forty three (43) young persons were presented with certificates while some received honourable mention for demonstrated leadership qualities while enrolled in the Programme.
This vacation period YES hosted its third Summer Internship focusing on tertiary level students while also accommodating secondary school students in a series of workshops called Agents of Change. Both programmes targeted young persons of school age and afforded them opportunities in the work place and in mediated fora for personal and professional growth and development.
According to Finance and Enterprise Development Secretary, Mr. Joel Jack this particular group of young persons is now set to drive meaningful change as empowered youth, empowering a nation. The programme endowed the beneficiaries with strategies to act as change agents in their own communities and transform, reconstruct and further develop Tobago.
In her welcome out going Assistant Programme Director, Ms Shamfa Cudjoe expressed her profound pleasure having witnessed the growth of the programme this year's intake being the highest on record. She encouraged the students to be the change they wanted to see and seize the opportunity to lead their destiny.
The YES Programme was established to collaborate with the Divisions of the Tobago House of Assembly, the private sector and other local, regional, and international agencies, to expand and enhance training, employment, and entrepreneurial opportunities for young Tobagonians, thus preparing them to lead in the development of Tobago.  It is coordinated by the YES Unit at the Victor E Bruce Financial Complex.