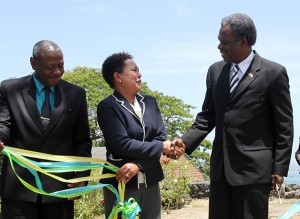 Tobago can now boast having four solar powered Multi-Hazard Early Warning Systems. They will be used to notify the public of disasters such as tsunamis, earthquakes and hurricanes.
The Tobago Emergency Management Agency (TEMA) in collaboration with the U.S. Embassy hosted a commissioning ceremony of the island's Multi-Hazard Early Warning Sirens on Thursday (June 11, 2015). The ceremony was held at Fort King George, Scarborough.
"Multi-Hazard Early Warning Systems saves lives," TEMA Director Allan Stewart said. The systems aid in TEMA's aim for comprehensive disaster risk reduction. They were strategically placed at high-risk locations on the island including Fort King George, Store Bay Heritage Park, at Feeder Road, Canaan, and the Gospel Hall Church Compound, Bon Accord. This will ensure that Tobagonians can receive timely warnings if there is a hazard or disaster threat.
The two newly installed Early Warning Sirens, managed by TEMA, were installed at Fort King George and Store Bay Heritage Park. The U.S. Government, through the regional military command Southcom and US Embassy, supported the initiative. The THA began talks with the Embassy in 2013 for the US donated sirens, which cost US $28,000. They were shipped to Tobago in February 2015.
"The more we look out for each other, the safer our world will be," US Embassy Chargé d' Affaires Margaret B. Diop said, adding that disaster preparedness "is all about protecting people and putting people first."
"Over the years, we have learned that communication is vital in disaster response. When we have succeeded in mitigating disaster, it's often because of strong communication networks, and good communication practices. But when communication breaks down, disasters can become tragedies," Diop said. "We want to share that knowledge and experience with others."
THA Chief Secretary Orville London said Tobagonians had an important role to play as the system's success depended on the "response of the people of Tobago."
"Risk reduction is linked to the attitude and the mindset of the people of Tobago," London said. He encouraged Tobagonians to be aware of the sirens.